We would like to thank you for taking a moment to look into Calvary Baptist Church! Here at CBC, you will find that we are a group of average, every day people that are looking to please the Lord with our lives. We also understand that visiting a new place can be difficult, and you may have many questions before you come. We want to set you at ease, and we want you to know that as our guest, it will be a very enjoyable time for your entire family. Please look below at some common questions that you may have.
How will I find the nursery, classes, etc.?

All Sunday School classes begin in the main auditorium for a time of singing and announcements, then are dismissed to their separate classes. All children classes are in the modules behind the main church building located at 47 High Street.  During the Sunday School hour, the men's class meets in one of the modules behind the church, and the ladies meet in the main sanctuary. The Nursery is located at the front of the Family Life Center off the front foyer.

What is there for children?

There are many opportunities for the children here during the Sunday School and morning worship hour. The children's ministry at CBC is called Super Church, and is filled with singing, crafts, games, Bible stories, and memory verses. The kids are able to learn the Bible in an exciting classroom that is specific to their grade in school.

We also have a very clean and professional nursery available for newborns through three years old. Our staff is well trained, and you will be given a pager to wear during the service in case your little one needs you.

What is there for adults?

On Sundays, the best way to connect and meet new people is to attend our Adult Bible Study class. The highlight of every week are the worship services. The worship services are typically about an hour and 15 min in length. The music is Christ-honoring and uplifting, the fellowship is refreshing, and the preaching from the Word of God is passionately preached and practically taught by Pastor Bell.

What are the service times?

Sunday School - Sunday 9:30 am

Sunday Morning Worship - Sunday 10:30 am

Sunday Evening Worship - Sunday 6: 00 pm

Midweek Service - Wednesday 6:30
Articles of Faith
We believe
That the Old and New Testaments are verbally inspired by God, inerrant and preserved; and they are of supreme and final authority in faith and life.  We use the King James Version of the Bible exclusively in our ministry.

In one God, eternally existing in three persons: Father, Son, and the Holy Spirit.

That Jesus Christ was begotten by the Holy Spirit, born of Mary, a virgin, and is true God and true man.

That man was created in the image of God, that he sinned, and thereby, incurred not only physical death, but also the spiritual death, which is separation from God. That all human beings are born with a sinful nature and are sinners in thought, word, and deed.

That the Lord Jesus Christ died for our sins according to the Scriptures as a representative and substitutionary sacrifice, and that all who believe in Him are justified on the grounds of His shed blood.

In the "eternal security" of the believer: that it is impossible for one born into the family of God ever to be lost.

In the resurrection of the crucified body of our Lord, in His ascension into heaven, and in his present life there as High Priest and Advocate.

In "that blessed hope" - the personal, premillinneal, pretribulation, and imminent return of our Lord and Savior Jesus Christ when the church will be "gathered together unto Him."

In the literal fulfillment of the prophecies and promises of the Scriptures which foretell and assure the future regeneration and restoration of Israel as a nation.

That all who receive, by faith, the Lord Jesus Christ are born again of the Holy Spirit, and thereby, become children of God.

In the bodily resurrection of the just and the unjust, the everlasting blessedness of the saved and the everlasting punishment of the lost.

That the Scriptural ordinances of the church are Baptism and the Lord's Supper, and are to be administered by the local church; that Baptism by immersion should be administered to believers only as a symbol of their belief in the death, burial, and resurrection of our Lord and Savior Jesus Christ, and as a testimony to the world of that believer's identification with Christ.
Our History
The story of the Calvary Baptist Church is one that testifies to the fact that with God all things are possible.  Arriving in Sanford, Maine after planting a church in Northern Maine and out of that church planting a church in Augusta Pastor Bell found out that many other men had tried to plant a church in Sanford.  Pastor Bell surveyed the area and found it to be a very oppressed area spiritually but that did not deter him from the task that God called him to do.  Starting with just his family he begin to knock doors averaging 100 a day in Sanford.  Though the people were some what welcoming, no one visited for three months.  A building was sought after to meet in but could not be afforded.  Finally after three long months of door knocking an old hanger at the local airport was secured for 500 dollars a month and the word got out that an "official" start would be taking place the next Sunday.  Forty six people packed into a little conference room that Sunday morning, six that night and one Wednesday night.  Those were exciting days as Pastor Bell stepped out in faith with his family.  
  The church has grown through the years and since purchased their own property on High Street in downtown Sanford.  Through the years the church has bought and renovated several properties in town to the Glory of God.  Currently the sanctuary that they worship in now seats 200 and it's not unusual to see it comfortably full on any given Sunday.  The God of Heaven has done wonderful things in the ten years that Pastor Bell has been in Sanford.  As he looks toward the future his desire is to see more people saved, discipled, and many more churches started all through out this state.  Pastor Bell would count it an honor to meet you at one of the services of the church.  You will find when you come that the people and Pastor love the Bible and are thrilled with the preaching of the Word of God with passion, zeal, and the fullness of the Holy Ghost.  We look forward to seeing you soon!
Pastor Todd Bell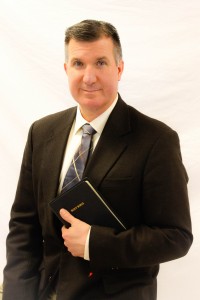 Pastor Todd Bell was born on October 20, 1969, in Lakeland, Florida. He and his wife, Amy, have four children, Elisabeth, Benjamin, Cherith and Abigail. Todd was saved at the age six under the preaching of J.B. Buffington in Lakeland, Florida. He received an Associates Degree for Machinist from Haywood Community College in Clyde, North Carolina, May 1989; a Bachelor of Theology Degree from Trinity Baptist Bible Institute in Asheville, North Carolina, in May 1994; and was honored with a Doctorate of Divinity from Crown College, in Powell, Tennessee in May 2015.
In 1989 Pastor Bell was employed with Asheville Industries in Asheville, North Carolina, as a machinist that worked on Government contracts. In 1994, God called Pastor Bell and his family to the state of Maine to plant Independent Fundamental Baptist Churches. After eighteen months of deputation, in January 1996 they moved to East Millinocket, Maine where they started and established the Tri Town Baptist Church. In August 2000, under Pastor Bell's leadership, the Tri Town Baptist Church started the Church Hill Baptist Church in Augusta, Maine. Since that time the Church Hill Baptist Church has continued planting churches and also is sending preachers out to take struggling churches and bring them back to God honoring churches.
In 1998, God burdened Pastor Bell's heart for "Reaching the Next Towns". This burden and vision birthed the Wings with the Word, Inc. aviation ministry. With the use of airplanes, Pastor Bell has been able to start and establish more than one church at time. He also uses the aviation ministry to encourage and edify other Men of God all over the New England area. Pastor Bell has 2,500 hours total flying time, 557 of those hours are in multi-engine aircrafts. He is currently a private, instrument, multi rated pilot. He has flown single engine Cessna's, single engine Pipers, and multi-engine Cessna's (310 and 402). All of these flying hours have been built flying all over the state of Maine and New
In August 2003, the Bell family moved to Sanford, Maine where they started and are currently pastoring the Calvary Baptist Church of Sanford. Under the leadership of Pastor Bell, the Calvary Baptist Church has started the Island Baptist Church on the island of Islesboro, Maine; the First Baptist Church of Jackman in Jackman, Maine; the Providence Baptist Church in Fort Kent, Maine; and the Gospel Light Baptist Church in New Vineyard, Maine. In 2010 God burdened Pastor Bell to start the Sanford Christian Academy. Numerous children have been educated in a Godly atmosphere. Pastor Bell also leads his congregations to support missions through faith- promise giving, and to love reaching the world with the Gospel. His church is active in soul-winning, discipleship, and training servants of the Lord.
Pastor Bell has faithfully served the Lord since 1989 when God called him to preach. Todd and his family have joyfully served the Lord in Maine since 1996.
Connect with us on Social Media